Compare & Backup Version 4.20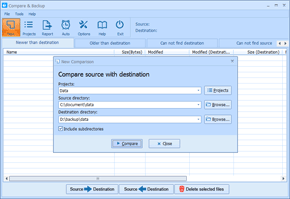 Only $29.95
Click either button to Buy via PayPal or BMT Micro:
All upgrades are FREE!
Compare & Backup is an easy-to-use and powerful backup software for directory synchronization. It allows you to compare source with destination before backup. Compare results are shown in 5 sections:
1) Newer than destination
2) Older than destination
3) Can not find destination
4) Can not find source
5) Only size changed

So you will exactly know what the difference is between source and destination. And you will know which files need to be backuped, which files need to be restored, which files need to be deleted. Then this backup software can do all those operations for you.

Requirements:
1. Windows 95/98/ME/NT/2000/XP/2003/Windows Vista/Windows 7/Windows 8.
2. About 6 MB of disk space.

Frequently asked questions


You have Nothing to lose with our 100-Day 100% Money-Back Guarantee

If, within 100 days you don't like the program for any reason at all, you will receive the full refund immediately - No questions asked.
Awards: